Welcome to Northwick's website
Northwick is a very special bear. He lives with a boy called Frank and his family. Both Northwick and Frank have nystagmus. If you have nystagmus it means your eyes move all the time (usually side to side or up and down) and you can't see very well.
Glasses and contact lenses don't fix nystagmus and doctors don't yet know how to cure it. Nystagmus causes all sorts of problems for Northwick and Frank in their everyday lives. For instance, Frank has to sit at the front of the class and even then he can't always see what's on the board.
"As a child I would have loved to have stories of a bear with wobbly eyes like mine, as I knew of no-one else like me."But nystagmus doesn't just make it hard to see things a long way off. If Frank and Northwick are tired or upset their eyesight gets worse. Even being hungry – as Northwick well knows – makes it harder for him to see.
Nystagmus does other strange things too. You might not look straight at what you want to see. You may nod your head to see better. You may need more time to see the things you can see. Nystagmus may make you feel shy or angry or lonely sometimes too. Even though we can't cure nystagmus yet, we can do a lot to make life easier for Northwick, Frank and the hundreds of thousands of people who have "wobbly eyes".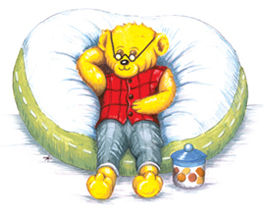 You can find out more about Northwick and Frank and how they are learning to live with nystagmus in the stories section on this website. For the very first story and to find out how they met read "A Bear with no Name".
As Northwick says…
"having nystagmus is a real nuisance.
But it's not the end of the world."
"Tales of Northwick" – about the book

The "Tales of Northwick" book contains nine of the early stories about Northwick and Frank. Each story explores one or more aspects of nystagmus. Whether you're a parent, teacher, friend, ophthalmologist, orthoptist, optometrist, social worker or have nystagmus yourself, Northwick can help you better understand what it's like to have weird and wobbly eyes.
To find out more about the 'Tales of Northwick book' please click here.
Knitted Northwick Bears – Get yours now

Knitted Northwick bears are available at only £5 each, with all funds going to the Nystagmus Network.
You can see the knitted Northwicks in the Gallery.
Please email John Sanders for details of how to order.
This offer applies in the UK only.
"Keep writing the Northwick stories. I still learn more about nystagmus from
them than from anything else,"
– Alison

Follow Northwick
on twitter
Tweets by northwickbear
This is where you can find out what's going on in Northwick's world…
'Cars or Cake?'
– An updated Northwick story.
Click on the link below to go to the News Page
(February 2018)

'A Problem Chewed'
– A new Northwick story,
Northwick and Frank agree it helps to tell people they have Nystagmus.
Click on the link below to go to the Stories Page
(February 2018)

'Auto oder Kuchen?'
– A Northwick story translated into German.
Click on the link below to go to the Stories Page
(November 2017)

'Frank Beats the Butterflies'
– A new Northwick story, being center of attention is very nerve racking.
Click on the link below to go to the Stories Page
(November 2017)

'Words from the Wise'
– A new Northwick story, it's good to talk about Nystagmus.
Click on the link below to go to the Stories Page
(November 2017)

Northwick Products
For Northwick books, audio CDs and knitted bears (see gallery for details) please…